Book now
Certified Agile Leadership®
12.06. - 13.06.2019 in Cologne
Max. Participants: 16
Language: German Course times: 09:00 - 17:30
€ 2.500,-
Few seats
Trainer
Sohrab is the Managing Partner of Agilar focused on the German speaking market and the Middle East. He devotes himself to the systematic development of existing and new business areas as well as the development of concrete business models and implementation strategies. As a Certified Scrum Trainer® (CST) he has been substantially involved in the agile transformation of several customer companies. With his trainings he supports organizations in becoming more agile and building a foundation for innovation.
Course Details
Leaders substantially influence an organization's agility and effectiveness. Increasing leadership awareness and competency in their own agility as well as their competency in aligning and empowering organizational agility is challenging. This workshop provides the AHA! leaders need to first increase their own personal awareness and to kickstart their journey to improved performance. This Certified Agile Leadership Workshop is an interactive leadership-focused workshop building skills and competencies to effectively guide and grow agile leaders, coaches and their organizations. This workshop is a pragmatic application of theory and provides concrete models, tools and techniques for leaders to employ directly in their own thinking, their own behaviors, and within their organizations.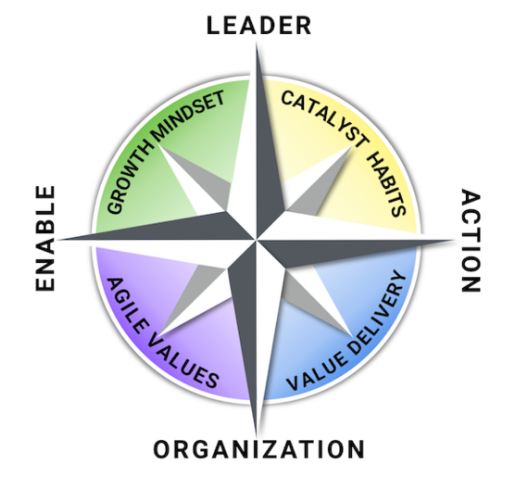 Agile Leadership Compass Participants will explore a comprehensive view of Agile Leadership - first from the leader's personal perspective in how agility impacts their thinking and behavior, then from an organizational perspective in how they can effectively align, guide and scale their organization's agility. The Agile Leadership Compass will provide guidance for participants both during the workshop and as an aid in their practice following the workshop.
Workshop modules
Context for Agility - Participants take a historical tour of management styles and industry trends driving the need for increased creativity and agility.
Leadership Agility Maturity - Participants explore and self-assess their leadership maturity and its relation to increased creativity and agility for improved outcomes.
Neuroscience of Leadership - Participants delve into the fundaments of brain research from threats on status, autonomy, fairness and change and how leaders can improve outcomes through cognitive responses.
Catalyst Conversations - Participants learn and practice a simple 5-step technique to reduce threats, increase creative outcomes, and empower others in any conversation, team meeting or organizational initiative.
Organizational Culture - Participants examine the Competing Values Framework, and organizational culture diagnostic, to better understand organizational values and their impact on change and agility.
Organizational Change - Participants walk through 3 interconnected change models to better understand the organization as a complex adaptive system and how to guide change that sticks.
Organizational Case Studies - Participants explore course-led and participant shared case studies to evaluate governance, metrics, and structures which impede or strengthen organizational agility.
Target group: Leaders (top and middle management), coaches, business developers, and all those who want to support their company on its journey towards greater agility.
Venue
Location: Scrum Academy
Oststr. 11-13
50996 Cologne
Your Contact
You can also book via telephone or email.
Team Scrum Academy
This training will be conducted by:
Agilar Germany
Book now
Your selection
Certified Agile Leadership®
12.06. - 13.06.2019 in Cologne
Trainer: Sohrab Salimi
Language: German
€ 2500.0,-excluding VAT per person
You wish to book an individual inhouse training?